"As a psychiatrist, I have extensive experience in treating a variety of mental health problems of varying degrees of severity. I provide empathic patient care with high professional expertise. My patient is always fully involved in his treatment decisions."
Dr Bersihand carries out in-depth assessments during which she gains a thorough understanding of the root causes of the problem of the patient. This is the key element. Targeted therapy then follows on. The initial assessment can last up to two hours. It includes on one hand a detailed mental health examination and on the other hand elements of psychotherapy including psychodynamic psychotherapy and cognitive behavioral therapy. Dr Bersihand is also an experienced psychotherapist who combines the ability to prescribe drugs with a complementary speech approach, believing that psychotherapeutic knowledge is often necessary to achieve positive mental health outcomes. The psychiatric assessment jointly with the psychotherapy allows to address the patient's immediate symptoms as well as facilitate long-term changes. When the patient leaves the clinic he is put on the right track to improved mental health and able to recover.
At her work Dr Bersihand links the best of English and Slovak approaches to psychiatry in terms of diagnosis, medication and psychotherapy. Assessments and therapy can take place in English. You are welcome to be accompanie by a person close to you to the assessment. All that is said during the assessment and therapy remains strictly confidential.
We treat these diseases.
"At my work, I had noticed that patients often want to talk to their psychiatrist in-depth. Unfortunately, there is not always room for that. However, rushed healthcare carries hidden costs. During the assessment, I get to know my patient not only by what is happening to him, but also by his typical behavior, what frightens him, what he cares about."
---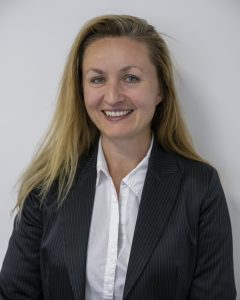 Biography
I am a private psychiatrist who works in the town Puchov in Slovakia, just over an hour's drive on the motorway from Bratislava or Vienna. I see patients with a range of mental health issues including depression, anxiety, post-covid syndrome, panic disorder, stress, trauma, psychosis and schizophrenia, mania and bipolar affective disorder, eating disorders, obsessive compulsive disorder, treatment resistant depression. Or I see patients for second opinion.
I was educated in England, at King's College London where I graduated with a medical degree in 2012. Since then I worked as a doctor in Central London in rheumatology, breast surgery, acute medicine, elderly medicine and later as a psychiatrist in a range of important hospitals including Imperial College, Charing Cross Hospital and Chelsea and Westminster Hospital. I completed all three notoriously difficult psychiatric specialty exams in London, thus gaining membership at the Royal College of Psychiatrists in London in 2017.
I moved to Slovakia in 2019 and set up my private practice there in 2021. Apart from Slovak patients I welcome English speaking patients who happen to be in Slovakia or online from far away countries like India. Our initial meetings can last up to two hours as I devote generous time to knowing the root causes of the problems of my patient which then enables me to offer an individual treatment plan including mutually agreed medication and elements of psychotherapy, namely psychodynamic psychotherapy and cognitive behavioral therapy. Hopefully with such thorough assessment and personal treatment there will be a little if none follow up necessary. Nevertheless, the follow up session can be conducted either in person or on phone, WhatsApp or Messenger.
The prescription for the medication is handed to you in the surgery or it can be posted discreetly to any address of your choosing. We do not use electronic prescribing to further increase confidentiality. You could bring your loved ones to the appointment. Whole service is highly professional and strictly confidential.
Apart from Medicine I have also studied Economics at Master's level and a course of Associateship of King's College which was aimed to promote intelligent, open-minded reflection on ethical and philosophical questions.
My hobbies include giving presentations and nature.
Qualifications
Specialty Exam in Psychiatry – Slovak Medical University in Bratislava, Slovakia
MRCPsych – Member of the Royal College of Psychiatrists in London, U.K.
Dr MBBS – Bachelor of Medicine and Bachelor of Surgery, King's College London, U.K.
AKC – Associateship of King's College London, U.K.
Ing. – Master's Degree in Economics, specializing in Foreign Trading, University of Economics in Bratislava, Slovakia
Education activity, presentations and audit conducted by the doctor